About
---
`Mother nature' is the greatest creative Artist and I love to document her creations with my camera. I believe there are great photographs waiting to be found everywhere, every time, but they are almost never to be found easily. It takes vision of an artist, along with the tenacity of a hunter to find a great photograph in nature. As an artist, I work hard to click photographs that speak both to me and to others about the beauty that exists in nature.  
I seek the unknown and i look for simplicity in complexity, light within the shadows and uncommon in common. The not so obvious stories of nature interest me most. I love my photographs to give a feel of looking at things we normally see but do not perceive. We are the stories we tell, I hope you enjoy mine.
---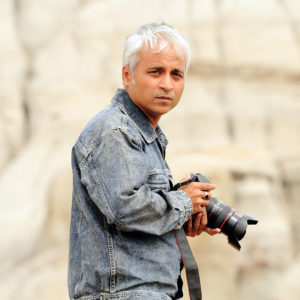 I am professional photographer of a different kind (Radiologist). The gruelling medical practice burned me out and the frustration of being misfit in a highly demanding medical field was killing me. But as it is said when there's a will, there's a way; thanks to my son's keen interest in wildlife and his love for birds which led me to clicking photos mainly for identification, which later turned into an obsession for me and under the guidance of a great teacher, nurtured into a passionate hobby.
I love being out in the wild, it elevates me into the state of trance. I got to visit a lot of places which I never thought of visiting before from the thick forests of the Himalayan foothills, national parks across the country, the cold desert of Ladakh, to the beautiful and serene Canadian Rockies and many more locations which would not have been possible if not for this hobby of mine. I am a weekend warrior due to the professional commitments and I like to click almost anything. Although apart from nature and travel, I really haven't tried other genres of photography. In future I would love to spend more of my time after my passion and visit all the wildlife hotspots across the planet.